Information Technology Moving Pharmacare Forward
An Interview with Keith Leong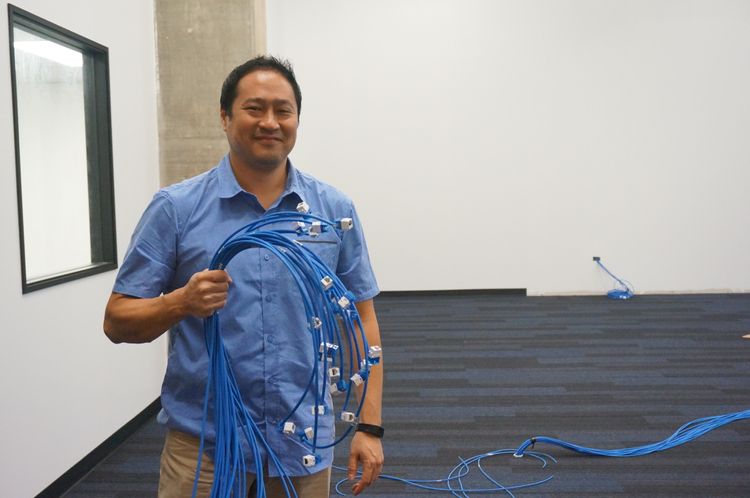 Effective use of information technology is critical to the success of all businesses. It's even more important for Pharmacare Hawaii, which needs a reliable, secure system to ensure patients and customers receive the medications they need and that all information remains confidential.
Keith Leong, Pharmacare Hawaii's Information Technology Director, shoulders this responsibility well. When he joined the company 15 years ago, he was the sole employee in the IT department for about seven years. Having worked at corporations with larger IT teams, serving as a one-man team had its obstacles. However, Keith rose to the challenge and successfully supported Pharmacare's various departments on his own.
A Small Team
Today, he has a small team of employees in IT that includes Mark Mizuo, who has more than 20 years of IT experience; Derrick Le, William Ng and two interns: Philip Rigor, of West Oahu College; and Marcus Brown, of Hawaii Pacific University. However, it's still not enough.
"I wish we had 10 of us," said Keith, noting that there are ever-increasing demands placed on IT today because of regulatory compliance issues relating to inventory. Of course, there's also a need for tighter IT security.
Expanding Expertise with Contractors
To meet the needs of IT's customers – which includes all of the employees in the various Pharmacare departments – Keith has had to work smarter.
He now directs a number of contractors that serve as a seamless extension of the IT department. This includes a help desk and security vendor based in Chicago to respond to employee requests for IT support; three different vendors that helped to launch the Long-Term Care Division's newest software system, which is now fully implemented; and a systems integration company that provides hardware and software solutions to integrate Pharmacare's accounting and operating systems.
Making Security a Priority
Security, which is one of the top priorities of the IT department, is also managed by another company.
"By outsourcing security, Pharmacare Hawaii has more than one person who can work on our system," Keith said.
After all, there would be a lot at stake if Pharmacare were to lose information on patients, our system was hacked, or attacked by "ransomware," a type of malware that locks up a computer system until a ransom is paid.
Continuous Learning
The contractors also free up the IT department to focus on new projects such as the recent migration to our new phone system. And one of the biggest benefits is that Keith and other IT professionals on staff can focus on the future.
"We're always learning. We can't sit still because technology is always changing," Keith said.
Through subscriptions to informative websites, email groups, listserv groups, and active participation in the monthly CIO Council of Hawaii, Keith and his team can anticipate the next big move in the IT world and Big Data. Pharmacare Hawaii is definitely in good hands.