Hospital To Home, Safe & Sound
An Interview with Lauri Unterreiner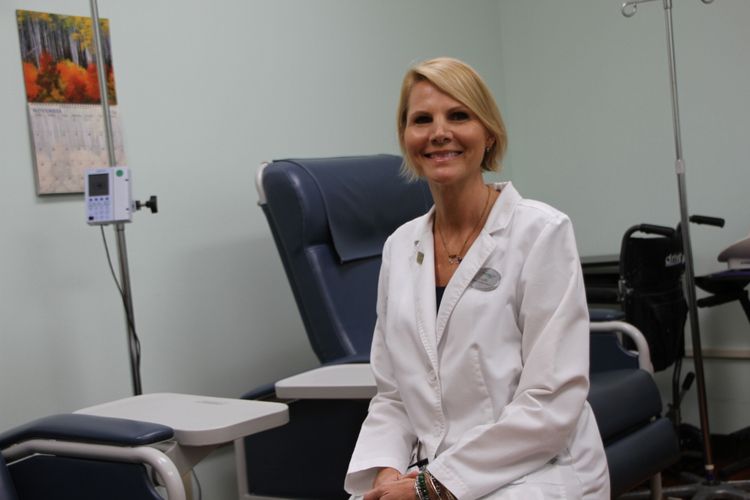 Empowering Patients and Their Families
Her pleasant demeanor immediately puts you at ease. Her warm, caring communication is appreciated by patients who are discharged from a hospital and often feel unprepared and inadequate to care for themselves. Lauri empowers them, giving them the know-how to take care of themselves so that they can recover quickly or maintain a better quality of life after their hospital stay.
"I help to simplify things and reduce stress for patients and their families," Lauri says, noting that many of her patients may be frail. These patients may be prescribed IV therapy because they have significant infections and oral antibiotics that would not be as effective for them. This may require a regimen of antibiotic IV care for a period of a few days to several months.
Other patients may require IV for chronic pain management, while patients with congestive heart failure may need inotropic medications intravenously to help keep their hearts pumping strong. Patients may also require another Pharmacare specialty: total parenteral nutrition (TPN) for patients who require intravenous feeding because they cannot eat or drink by mouth, temporarily or an ongoing basis. TPN helps ensure these patients receive the valuable, life-sustaining nutrition they need to remain strong and healthy.
Lauri said there is a common goal for all of the different IV therapies that Pharmacare offers: to provide more quality time for the patients to comfortably enjoy with their families and friends.
Putting the Lives of Our Patients in Capable Hands
When you know the lives of others are literally in your hands, you can't help but take your role seriously. Lauri Unterreiner, Nurse Liaison for Pharmacare Hawaii, is well-acquainted with this feeling. It is both a privilege and responsibility she encounters almost every day as she helps frail patients make a smooth transition from the hospital back to their homes.
With 28 years of nursing experience in the Midwest, Southeast and Northeast, including specialized training and certification in intravenous nursing care, Lauri is the right person for this important job.
Obtaining IV nursing certification is not easy. It requires thousands of hours of real-world patient care experience, clinical training, and experience with educating other healthcare professionals. However, it is much more than Lauri's technical expertise that makes her a welcome extension for Hawaii families.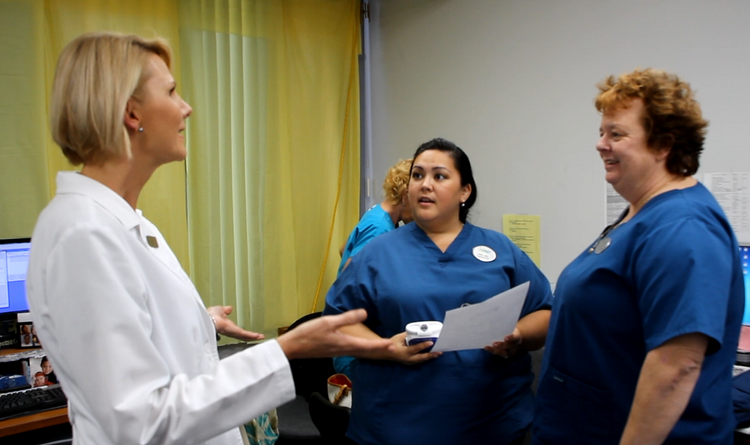 Touching Lives with Attentive Care
"We're always available 24/7 for concerns that patients or family members may have," she said. For Lauri and the other nurses, delivering great, attentive care may be something they do every day, but for many patients and families, it makes all the difference in the world and creates a lasting impression.
Patient education is a major part of Lauri's role. She recalls one woman who at first didn't feel confident that she could take care of her husband. Lauri took the time to simplify the IV procedures for the wife of the patient and gave her the confidence she needed.
"When I saw the patient's wife later at the hospital, she gave me a hug and had tears in her eyes. She was so appreciative and thanked me for the time that I spent with them," Lauri said.
Making Time for Contemplation
Even the most dedicated healthcare professional needs to find time for rejuvenation. Lauri, who continually gives of herself, has recently found a new way to recharge. In March, she joined Hui Nalu, a paddling group of 30 to 40 women who share a common bond: they are all strong, athletic and love being on the water.
A couple of days a week, out on the deep water, Lauri can enjoy peaceful sunsets and see turtles, dolphins and whales up close. She also enjoys scuba diving, snorkeling, kayaking and paddle boarding – all the activities that have been on her list of things to do that she has been able to successfully check off.
If she's not on the water, you can find Lauri hiking at Makapu'u Point, where she has found a special contemplation corner; hiking in the bamboo forests at Lulumahu Falls Trail, off of the Pali; or braving the Koko Head trail. Or you may find Lauri simply enjoying well-deserved solitude with a yoga session as she prepares emotionally and mentally to meet the needs of more patients and families.
et Apart
Pharmacare Hawaii is clearly the leader in IV nursing. With 10 certified IV nurses, Pharmacare has the largest specialized team of its kind in the state. Physicians and case managers at Hawaii's hospitals know they can count on a Pharmacare nurse who speaks their clinical language and understands the importance of safe, efficient patient discharges.
Once Pharmacare's Intake team takes care of the health plan aspects of care and provides an affordable payment plan, if necessary, Lauri and her team immediately take action. Lauri personally sees as many as 15 patients a week to get them started on their IV therapy program.