Gearing Up For The Next 90
An Interview with Marc Inouye & Christine Nip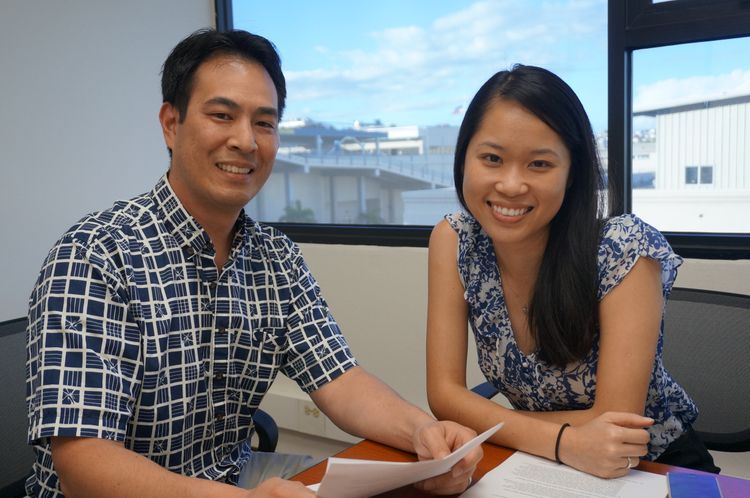 Marketing Department Leads Pharmacare's Makeover
Over the past 90 years, Pharmacare Hawaii has evolved to respond to the changing needs and preferences of patients and customers. However, Pharmacare's external image did not keep pace with those changes. There was a disconnect between the exciting advances within Pharmacare and what others saw from the outside, but the Marketing department is helping to change this.
"As the company approached its 90th year of service, the owners felt it was time to update our brand and make it more recognizable," said Marc Inouye, Pharmacare's Marketing Manager, who oversaw the rebranding efforts. "We had to respond to the changing landscape of healthcare and competition from the big box retailers. Our retail pharmacies also needed an updated, consistent look."
How do you show the world that 90-year-old company is still relevant for today?
Very carefully.
The Long Rebranding Journey Starts with Listening
It was six-month process facilitated by 1013, an integrated creative media company.
"We were not just creating a visual, but defining a brand based on messaging that represented our core values," Marc said. "Our rebranding journey was an opportunity to find out about ourselves."
Many were involved in the rebranding process. The first three months involved a lot of listening. The 1013 team conducted research on Pharmacare Hawaii by starting with a series of interviews with a broad range of stakeholders, including employees, physicians, customers, leaders, directors, managers, and Pharmacare's owners.
"We wanted everyone to share their mana'o," Marc said. "We were shaping the reputation and image of Pharmacare, while also defining our culture. The pharmacy business is in our DNA, and we wanted to honor this, while also looking at ways to make sure our new brand resonates with our patients and the community."
A New Look That Reflects Who We Are
After gathering input from everyone, the 1013 team then conducted additional research to create a new look for Pharmacare, which included a new logo, retail graphics and more.
"They basically came up with four logo designs and we narrowed it down to two," Marc said. We will officially unveil the logo to the public later this year."
Although the new look is completed, the rebranding process is continuing.
Teamwork from Brand Ambassadors
"It takes teamwork to make the dream work," Marc said, noting that the Marketing department started the Pharmacare Brand Ambassadors group to further promote understanding of the new brand, starting with Pharmacare's own employees.
The brand ambassadors group, which has been meeting regularly since August 2016, consists of employees from each Pharmacare location or department. It's an opportunity to bring employees together to share information that they can in turn share with others in their departments.
It works the other way, too, providing a conduit to gather feedback from the various departments and locations.
"It gives us a better pulse of what's happening within our company," Marc said.
More than Branding
The Marketing department is involved with much more than branding. Besides Marc, the other professional in the two-person department is Christine Nip, Marketing and Outreach Coordinator. Together, they are responsible for planning, organizing, coordinating and evaluating all marketing initiatives, including advertising, promotions, and internal and external communications.
Marc and Christine strategize on how to best create marketing and sales materials that support our sales team and nurse liaisons, who reach out to hospital staff and physicians to promote home infusion therapy, the ambulatory infusion suite, and enteral nutrition therapy.
The Marketing team also promotes retail marketing and services for Pharmacare's seven locations on Oahu to attract more foot traffic, generate more point of sales, and prescription orders from physicians and other referral sources for the convenience of patients.
Outreach Clinics
One of Christine's responsibilities is the outreach clinics, held every fall from September to November. Pharmacare conducts nearly 100 onsite clinics for dozens of companies, from small, 20-person businesses to large companies with thousands of employees. This past fall, Pharmacare administered 4,000 flu shots and 3,000 Hepatitis A vaccine during the height of the Hep A outbreak.
"That's thousands of additional people who have had a chance to learn about Pharmacare," Christine said. "The clinics are a tool of branding and marketing. It's an opportunity for us to see customers face-to-face and to educate them about Pharmacare."
"We also create a platform to build influential relationships with HR directors and ultimately, decision-makers for corporate wellness," Christine said. "The flu clinics provide a way for companies to learn about our other services that they may be interested in."
Employee Engagement
The Marketing department also includes internal marketing. This involves keeping employees informed and bringing them together to be more engaged. Since joining Pharmacare, both Marc and Christine have personally experienced the aloha spirit from other employees, including the leaders of Pharmacare. The aloha spirit is an asset that sets Pharmacare a part from other companies, and the Marketing team would like to instill and perpetuate that even further.
Christine recalls one evening when she was still at the office at 8 pm, Kim Yoshino, Human Resources Director and wife of Byron Yoshino, stopped by to assist her and stayed for an hour to help.
Christine has countless other examples of the strong team spirit at Pharmacare.
"Everyone pitches in to help each other regardless of how much they already have on their plate. Even Ty and Corey, who are not morning people, will wake up at 6:00 am to help," Christine said. "It's that kind of thoughtfulness and selflessness that makes Pharmacare a great company, not only for the employees but for our partners and patients. We bend over backwards to ensure that our patients receive the highest level of care. Even if it means long hours, or working during a hurricane, we do whatever it takes."
All of this inspires the Marketing department to promote that same generous aloha spirit. During the Thanksgivng season, Marc and Christine put up a "Tree of Thanks" in the lunchroom and invited employees to hand cut leaves to put on a big colorful tree to express how thankful they were for each other and family members. It was a big hit, as the tree ran of space for all of the leaves!
The Brand Ambassadors are also involved with internal marketing. They are currently planning a project in 2017 that will involve Pharmacare employees taking charge of cleaning the lunchroom to make it a place all employees can be proud to gather with each other.
Work Hard, Play Hard
What do Marc and Christine do when they have free time? Marc enjoys family time and shoreline fishing, as well as traveling. He has been to Singapore, Hong Kong, Vietnam, Korea, Japan New Zealand, Chile, Argentina and Brazil.
Marc & his family share a meal at their favorite restaurant, Nico's Pier 38.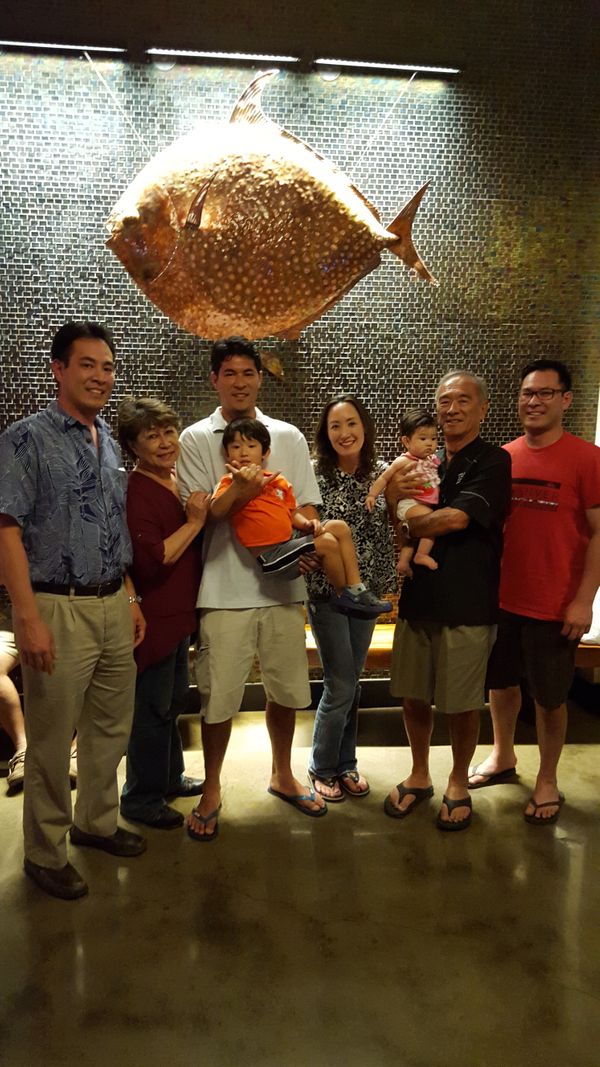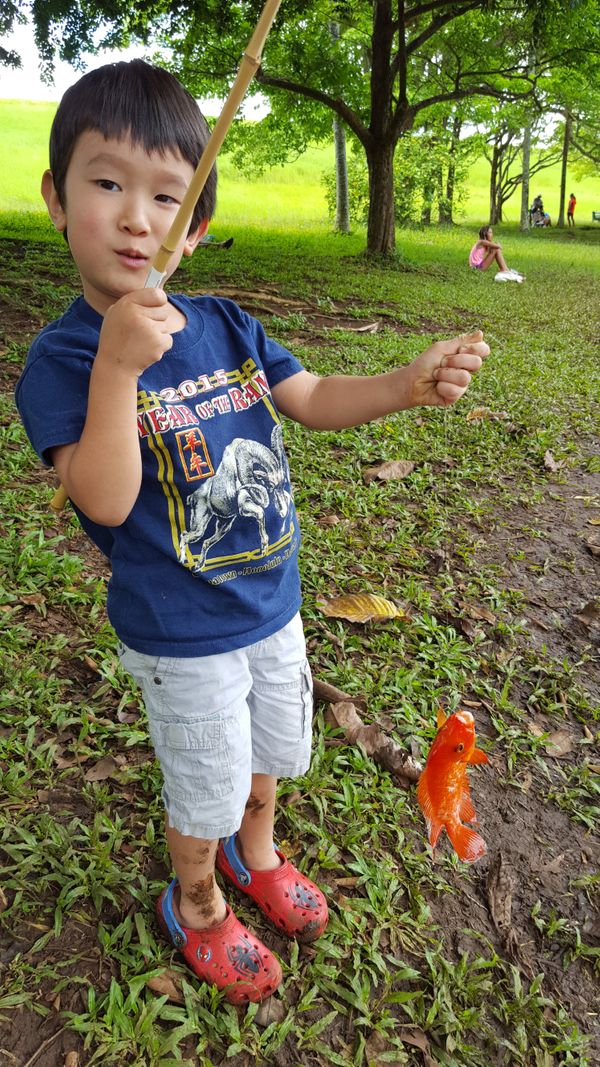 Christine said she likes being productive and doesn't like to "chill." So during her free time she serves as a wedding planner for family and friends, and volunteers with a nonprofit called Love Gives, founded by professionals in the local wedding industry. She also enjoys hanging out with friends from church, baking, and cheering on the USC Trojans Football Team.