Building Business On A First Name Basis
An Interview with Chris Nucum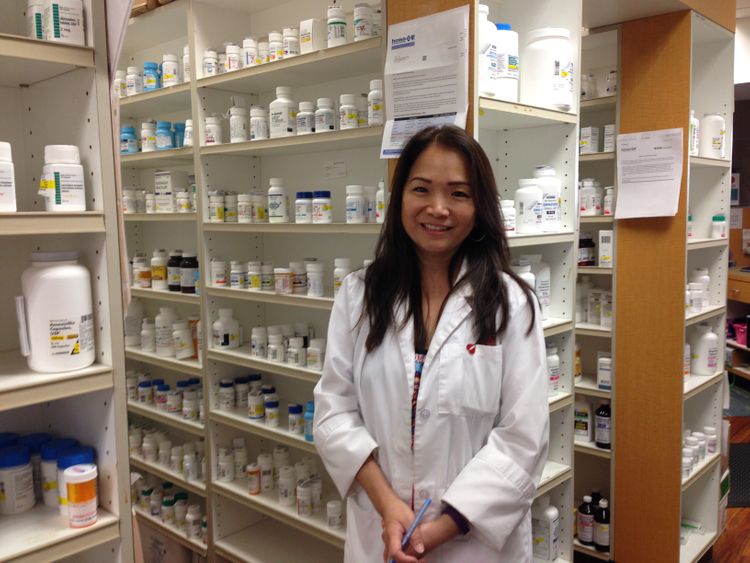 Moving Beyond "Lick, Stick and Pour"
Chris Nucum, Pharm.D, Pharmacy Manager of our Pali Momi pharmacy, started her pharmacy career in hospitals. After graduating from the University of Southern California, she did a pharmacy residency in Southern California and moved to Hawaii in 1995.
She worked in the Neonatal Intensive Care Unit at Kapiolani Medical Center for Women and Children and at Shriners Hospitals for Children in Honolulu, helping orthopedic pediatric patients.
However, after her third child, she decided to make a big career change, transitioning from the 24/7 hospital pharmacy environment to the world of retail pharmacies because she thought it would provide regular working hours to have more time to spend with her children, two of whom are now in high school and the third in college.
But that doesn't mean retail pharmacy is not without its share of challenges. The healthcare landscape is evolving and often puts a strain on retail pharmacies, but Chris and her team have successfully risen to these new challenges.
Dramatic Changes Facing Retail Pharmacies
Chris has been at the Pali Momi site since 2000, when it was still operated by Hawaii Pacific Health. Over the years, there have been numerous changes in healthcare affecting the pharmacy business and the pharmacy profession. More than ever before, it requires much attention to the health and well-being of patients.
"Before, pharmacies were known as the 'like, stick and pour" profession, but it's not like that at all," Chris laughed. "Before, you could lick the label, stick it on the bottle, and pour the medicine or count it out."
New Role, New Responsibilities
Pharmacists are now seen as critical healthcare providers for patients. With that new role comes added responsibility and accountability.
Just as healthcare providers can no longer base their reimbursements strictly on the volume of patients they see, pharmacists must also focus on the quality of care they provide their patients to ensure better health results.
"Fee for service is no longer there. Everything is all about outcomes now. It's always been about wellness, but now we're graded on how well we take care of our patients," Chris explained. "Do they pick up their medications in a timely manner? Is it every month? Are they missing doses? We have to make sure our patients are well taken care of, that they understand what they're taking, understand why they're taking it, and how it's going to help them. Ultimately, it will give them a better lifestyle."
Impact of Health Plan Coverage
Health insurance benefits are a major factor that is shaping the retail pharmacy business.
"There are insurance caps, restrictions on what providers can prescribe, with step-wise therapies," Chris said. "Insurance companies want you to use certain medications first. They have a formulary and want you to use their list of medications first, and if those don't work, then use others with prior authorizations."
Stiff Competition
On top of the added expectations for pharmacists and constraints imposed by health insurance providers, there is competition from other retail pharmacies vying for the same patients and dollars.
"We have a lot of competition in this area," Chris said, noting the presence of Big Box retailers. All within close proximity to Pharmacare's Pali Momi site are CVS Longs Drugs Pearl City, which is open 24/7; CVS Longs Drugs Pearlridge, CVS Longs Drugs Manana; Times Supermarket Waimalu; Times Supermarket Aiea; and Medical Center Pharmacy.
However, Chris remains undaunted by the competition, focusing on one of the key strengths of independent pharmacies: personal relationships.
Personalized Care
She notes that the changing expectations of pharmacists works to the advantage of independent pharmacies:
"The focus on quality care and health outcomes need a personal touch, and that's what we are able to offer," she said. "As a pharmacy I think what we can offer that the big stores cannot is that one-on-one relationship."
"On a typical day, you will hear our patients say, 'Hi Kristen,' or 'Hi Jamie, how's it going? You guys, I need my meds, can I have it?' A lot of the interaction is on a personal name basis. We're familiar with our patients, we know their histories, and they've been with us for a number of years," Chris said, recalling an incident in which a patient asked for the same over-the-counter remedy that Chris had recommended on a previous visit.
Chris also noted that she has even been referenced by name on a patient's hospital discharge plan, with the patient confidently noting that the other providers can just call Chris if they have any questions.
Serving A Diverse Patient Population
The Pali Momi pharmacy serves a broad range of patients, including inpatients being discharged from Pali Momi, outpatients from the nearby physician offices, and patients who live in the Aiea and Pearl City areas who may be shopping at Pearlridge.
Throughout the day, the pharmacy helps transition Pali Momi patients participating in the hospital's discharge program. For these patients, Pharmacare's new BedMed program, which delivers all of the medications for patients to their bedside before they go home, has been valuable.
New Providers
Although a large number of physicians in the adjacent physician office building, many of whom were internists, relocated to other locations a few years ago, there are new providers now occupying the building that offer different specialties, including a heart center and surgeons. Chris and her team are now reaching out to establish relationships with these new providers.
Teamwork is All Important
In the competitive retail pharmacy environment, teamwork is critical. Chris says it is the personality of the team and their teamwork that holds everything together.
Paula Ng, the other pharmacist at Pali Momi, comes in on Mondays, to free up Chris to take care of management and administrative details. The pharmacy technicians are also a valuable part of the Pali Momi team.
"I wouldn't be able to do this without our techs," Chris readily admits, noting that her three full-time techs – Jamie Benito, Chelsea Colombini-Sanchez, Kristen Antonio – each have their own strengths that add to overall team. "They are all empathetic. They listen to what you have to say. Everyone helps each other out. Lot of times they don't have to ask. They have each other's back." Kellie Keahiolalo is also part of the Pali Momi team as a call-in pharmacy technician.
Relaxation
What does Chris do in her free time when not working intense nine-hour days during the week and two Saturdays a month or not chauffeuring her daughters to different activities? There's rarely any downtime for Chris, but one indulgence, she admits, is a good glass of wine with a good book.