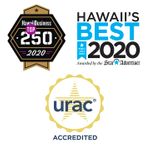 Pharmacare Hawaii's July-August Recognitions and Accreditations
Honolulu, Hawaii (August 2020) – Pharmacare Hawaii, a locally owned third-generation pharmacy that dates back to 1927 in Hawaii, has recently been recognized for its excellence in the community. In August, Pharmacare received the 2020 Hawaii's Best Drugstore/Pharmacy recognition for the third consecutive year and Hawaii Business Top 250 company award since 2009.
In July, their Specialty Pharmacy received its first accreditation from URAC, a Washington, DC-based health care organization that establishes quality standards for the entire health care industry. Pharmacare also continues to be accredited by The Compliance Team, the only national health care accreditation organization authorized by the Secretary of Health and Human Services to confer Medicare-approved Exemplary Provider accredited status.
"These acknowledgments validate our years of demonstrating quality pharmacy services to our patients and physicians who trust Pharmacare," said Byron Yoshino, President & CEO of Pharmacare. "As a local pharmacy, we are driven by the advancements of health care that fits modern lifestyles – accessible, customized, nimble."
Pharmacare began as a small independent home infusion pharmacy in 1983, however its roots go back three generations to 1927 when the current President's grandfather opened Yoshino Drug Store on King & Kaheka. The current co-owners Byron & Kim Yoshino and Rick & Jane Sakurada have grown their pharmacy business to a 200-employee company that provides everything from cold medicine and immunizations to treating chronically ill patients with specialty medication or infusion treatment. Pharmacare will remain focused on its booming specialty medication, infusion therapy, and other niche health care services.
"We're expanding our operations and continuing to accelerate our specialty pharmacy and health care services. Our company's kuleana will always evolve around patient needs," explains Yoshino. "Pharmacy is in our DNA and we are always improving, ever evolving, we are a modern local pharmacy."
###