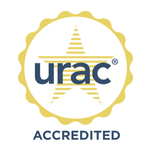 Pharmacare Hawaii Receives URAC Accreditation in Specialty Pharmacy
Honolulu, Hawaii (July 2020) – Pharmacare Hawaii, a locally owned third-generation pharmacy that dates back to 1927 in Hawaii, has been awarded Specialty Pharmacy accreditation from URAC, a Washington, DC-based health care organization that establishes quality standards for the entire health care industry.
With this prestigious accreditation, Pharmacare will continue to service patients and physicians with the highest standards and safety. Typically, a company is surveyed by an impartial URAC staff determining if the URAC standards are met or exceeded. These includes standards for quality improvement, quality control, sterility, clinical competency and patient safety.
"This accreditation validates our years of demonstrating quality pharmacy services to our patients and physicians who trust Pharmacare," said Byron Yoshino, President & CEO of Pharmacare. "As a local Specialty Pharmacy, we are accountable and dedicated to all the people in our community who choose Pharmacare for their specialty medication."
Pharmacare began as a small independent home infusion pharmacy in 1983, however its roots go back three generations to 1927 when the current President's grandfather opened Yoshino Drug Store on the corner of King & Kaheka. The current co-owners Byron & Kim Yoshino and Richard & Jane Sakurada have grown their pharmacy business to a 200-employee company that provides everything from cold medicine and immunizations to treating chronically ill patients with specialty medication or infusion treatment. Pharmacare focuses on providing specialty pharmacy medication, infusion therapy, and other niche health care services. In 2018 and 2019, Pharmacare was voted as Hawaii's Best drugstore/pharmacies finalists by the Star-Advertiser readers.
"We are accelerating growth of our specialty pharmacy and health care services, while our company's Kuleana will always remain focused on patients' needs," explains Yoshino. "As a local company serving the local communities, we provide services with aloha. Pharmacy is in our DNA and we remain optimistic about our ability to support patients, in the rapidly changing world we live in, and are ready for whatever the future brings to health care."
###
About Pharmacare Hawaii
For over 90 years, Pharmacare Hawaii has taken pride in being a third generation, locally owned and operated pharmacy business. Originating as Yoshino Drug in 1927, then later as Value Drug, today Pharmacare Hawaii continues the legacy and commitment to the health of their patients. Pharmacare operates retail pharmacies on the island of Oahu, as well as offering pharmacy services in infusion therapy, nutritional services, specialty pharmacy, long-term care services, and immunization/vaccine clinics. Pharmacare has continually provided the best possible health care that improves the quality of life for all their patients, delivered with the same Aloha Spirit as they did for generations. For more information, please visit www.pharmacarehawaii.com.
About URAC
Founded in 1990, URAC is the independent leader in promoting healthcare quality through leadership, accreditation, measurement and innovation. URAC is a nonprofit organization using evidence-based measures and developing standards through inclusive engagement with a range of stakeholders committed to improving the quality of healthcare. Our portfolio of accreditation and certification programs span the healthcare industry, addressing healthcare management, healthcare operations, health plans, pharmacies, telehealth providers, physician practices, and more. URAC accreditation is a symbol of excellence for organizations to showcase their validated commitment to quality and accountability. For more information, visit www.urac.org.