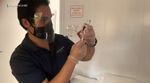 HNN Video - Pharmacists fan out to small care homes to vaccinate at-risk kupuna
By Mahealani Richardson | January 27, 2021 at 5:29 PM HST - Updated January 28 at 6:50 AM
HONOLULU, Hawaii (HawaiiNewsNow) - As part of a new state program, pharmacists and nurses are going directly to small residential care and foster homes to vaccinate fragile and isolated kupuna.
Among those who got the shot Wednesday: 82-year-old Patricia Souza, who lives in an Ewa Beach foster home. "I was lucky that I got to do it," she said.
"I'm hoping that it gives me a lot of power."
For many in the residential care home community, life during the pandemic has been about living shut in because of fear of the deadly virus.
"This is a big relief. We feel like there's a little sunshine beyond this. Instead of being caught literally we are trapped," said Ricky Mericle, the owner of the foster home where Souza and two other patients live.
The new partnership between the state and independent pharmacist kicked off last week.
"Every day we are vaccinating 130 people across 20 homes on Oahu on a daily basis and we plan to
See full video Here