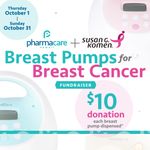 Breast Pumps for Breast Cancer
Media Contact: Marc Inouye
Email: mainouye@pharmacarehawaii.com
BREAST PUMPS FOR BREAST CANCER KICKS OFF IN OCTOBER
Honolulu, Hawaii (October 2020) – Pharmacare Hawaii, a locally owned third-generation pharmacy that dates back to 1927 in Hawaii is launching their Breast Pumps for Breast Cancer campaign – a fundraiser for the Susan G. Komen Hawaii organization. For the month of October, Pharmacare will be donating $10 to the Susan G. Komen Hawaii for each breast pump they dispense to their patients.
Pharmacare has continued to support Susan G. Komen Hawaii, because of the vital support they provide through breast health services and research. Women who are pregnant may receive a free breast pump with most insurances. Pharmacare carries two of the most popular breast pump brands Spectra and Medela, which also includes free home delivery.
One in eight women will develop breast cancer in their lifetime. Many women become much more aware of their breast health while breast feeding, including how they can reduce the risk of breast cancer and things to watch for.
The Breast Pumps for Breast Cancer fundraiser will begin on Thursday, October 1 through Sunday, October 31. At the end of the month, Pharmacare will tally the breast pumps they dispensed and make a check donation to Susan G. Komen Hawaii. More information about the breast pumps can be found at www.pharmacarehawaii.com/breast-pumps.